Boxhead Hacked gives you a simple and fun game, just like Earn to Die 3. Slay zombies and devils on Single Play mode or jump to Cooperative play to play a friend or play 2 character yourself. But watch out the levels get more and more difficult as you continue to play. Become one several Boxy characters who rids the globe of zombies. Kill or be killed by the zombies and devils who overrun the earth. Earn more weapons by increasing your multiplier, each kill is worth 1 point on your multiplier. But be ware the better you become at killing zombies the more zombies you have to kill to make your multiplier points increase. If you want to see another amazing action game follow link.
Boxhead Hacked Single Player Mode
You can move across the screen by the arrow keys in solo mode. Shoot using the space bar. Then lastly you can change weapons by using 0 and 9 keys.
Boxhead Hacked Cooperative Play Mode
Player 1 moves with the arrow keys and player 2 moves with W A S D. Then to shoot in cooperative mode Player 1 uses the / key and player 2 uses the spacebar. To change weapons Player 1 uses . and , keys. Player 2 uses Q and E keys.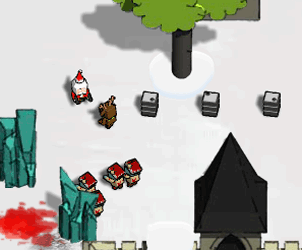 Characters
Bamboo was dishonorably discharged from the army for blowing up an army base by mistake. He is an urban fighter, and is ready for whatever danger comes his way.
Bon is a member of SWAT and has joined forces with Bamboo to help rid indoor rooms of zombies and devils.
Bind is a secret agent from the queen's secret service. He has been sent to give intelligence to the allies about the zombies location.
Sergeant Bert Boxman is an Ex-marine soldier who now works for anyone who will pay him. The people of Boxville have paid Bert to protect them from the Zombies and other nasty beings.
Zombies were once a citizen of Boxville, but contracted a virus from a pandemic and now feed on Boxers. Just like you would expect, the zombies are slow and easy to kill.
Devils are more dangerous than the zombies because they can shoot energy balls at you while your back is turned.
Quick Tips
Be sure you upgrade and get better weapons you will need them as the levels become more difficult. Take Care of the Box Devils ASAP, they shoot energy balls at you while you are not shooting them. And they are much more difficult to kill then the zombies. Play on the cooperative mode any get twice the fire power. And be ware of the explosives, they do kill a ton of zombies but don't get trapped by the damage.